Bodies are different. With BodyFit® Technology, we make life easier for everyone with an ostomy by securing the right fit, no matter your shape and whatever your specific challenges. All solutions in the SenSura® Mio range share the same benefits that give you optimal discretion and freedom to move. If you want to try a free solution sample, please click above. To make sure the sample fits your needs, we will get in contact with you within the next few business days.
---
Regular profiles
If the area around your stoma is level or near level with the abdomen, the flat SenSura® Mio appliance may be the best fit. It has an elastic adhesive that follows your body during movement.

Inward profiles
If your stoma is on an inward area, SenSura® Mio Convex could be right for you. It has integrated flexlines for comfortable bending without any compromise on security.

Outward profiles
If your stoma is on a bulge or hernia then SenSura® Mio Concave may be the best fit. It has a curved-star-shaped baseplate that hugs the bulge or hernia for a good fit.
---
Do you need a flat, convex or concave?
The SenSura Mio range lets you choose between a flat, a convex or a concave baseplate. What's best for you depends on the area around your ostomy and the position of the ostomy.
If the area around your ostomy is deep-seated or uneven, a convex baseplate can help provide a good fit. The curved shape of SenSura Mio Convex provides support and comes in three sizes: Soft, Light and Deep.
The Soft Convex can provide the proper support in the area around the ostomy, if it is above skin level.
The Light Convex has a light curve that gently helps the ostomy protrude, if it is in level with the skin or in a slightly deep-seated area.
The Deep Convex is suitable, if your ostomy is below skin level and needs a lot of help to protrude. It has a deep curve, which provides a good grip.
A Coloplast Care® professional can help identify which size is right for you.
If the area around your ostomy is an outward bulge, curve or hernia, a SenSura Mio Concave solution may be the right solution for you. It is the first appliance specially designed for outward areas. Its concave baseplate supports your stoma with less creasing and folding in the adhesive.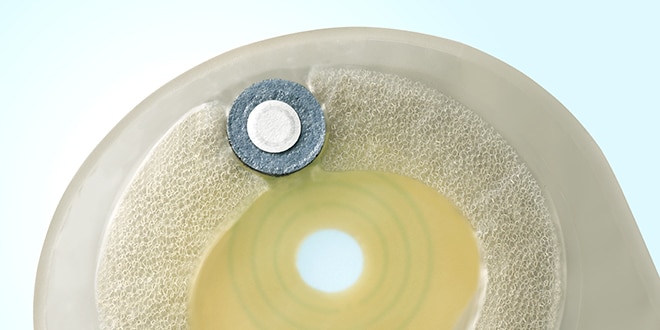 Full-circle filter prevents ballooning
Do you worry about your pouch inflating like a balloon, or odor from the pouch? Many ostomy pouches incorporate a charcoal filter to deodorize gas and allow it to escape from the pouch - but once the filter clogs, it doesn't work. SenSura Mio pouches feature a special full-circle filter, which adds a large, circular "pre-filter" to trap stool before it reaches the the filter so it can prevent it from clogging. This results in a much smaller risk of ballooning.
Secure fit with elastic barrier
The barrier is the most important part of your pouching system - not only does it protect your skin from your stoma's output, it keeps your pouch adhered to your skin.

Your skin is elastic, which allows you to stretch and bend and move throughout the day. SenSura Mio's special elastic barrier follows these natural body movements and fits individual shapes to maintain a secure fit.
Feel free to wear whatever you want
Do you worry that your pouch will be visible underneath your clothes? The SenSura Mio pouch is a neutral-gray color, which was chosen to optimize discretion under all clothing colors.
And because it's made of a water-resistant, woven textile, the pouch feels soft against the skin, provides low friction against clothes, and dries quickly after a shower or a dip in the pool.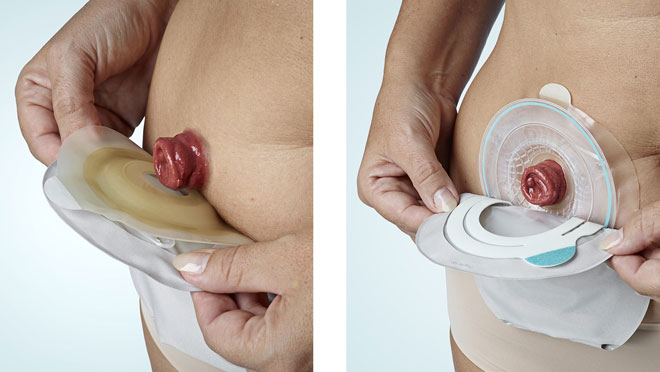 1-piece or 2-piece solution - what to choose?
There are advantages to using both systems. It basically comes down to what's convenient for you.
If you use a SenSura Mio 1-piece solution, the barrier (flat or convex) is permanently attached to the pouch, and to change the pouch the whole appliance is removed and replaced. A 1-piece provides the most discreet and flexible option, and may be easier to apply if you have low dexterity.
With a 2-piece solution the pouch and barrier are sold as two separate items. Because the pieces are separate, you have the option to change the pouch more often than the barrier, and you are able to switch among different pouch sizes depending on your need. This can come in handy when you are going out and may prefer a smaller and more discreet pouch. Some individuals find a 2-piece solution easier to see as they put it on - as they can center the barrier around the stoma, then apply the pouch afterward.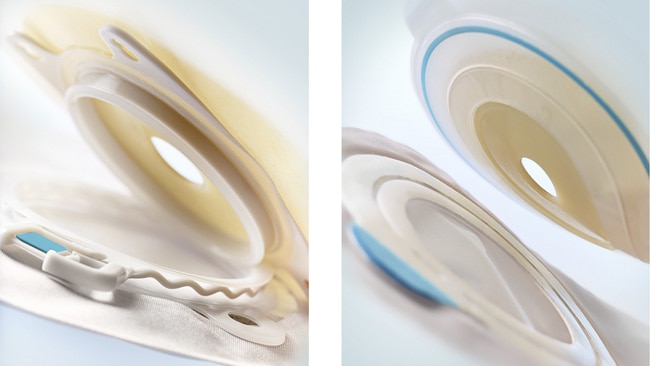 Do you prefer a click or a flexible adhesive coupling?
If you want to feel reassured that the system is attached properly, the SenSura Mio Click system has a wave-shaped lockring which gives an audible "click" when the pouch is securely locked to the barrier.
If you like the idea of a 2-piece but are looking for a more low-profile system, SenSura Mio Flex may be a good option. This flexible adhesive coupling system attaches the pouch and barrier with an adhesive - like a sticker - and combines the flexibility of a 1-piece with the convenience of a 2-piece. In addition to its flexiibility and low profile, the Flex system is popular for its ease of application - even with low dexterity, it is easy to apply and remove the pouch.

Before use, always consult the 'Instructions for use' document provided with the product