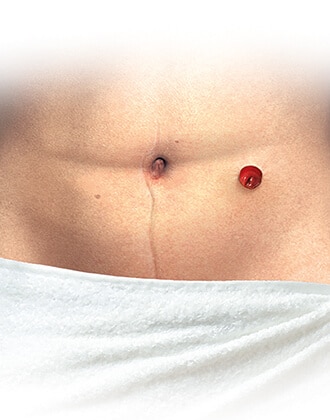 Maintaining healthy skin is more than simply checking if you are applying and removing your ostomy pouching system correctly and with the right frequency. The length of time between changes will vary for each individual.
Using the 'Apply Remove Check' process described here will help ensure you are in the right routine.
Apply
Make sure the skin is clean and dry before applying.
The baseplate should fit snugly around your stoma.
Supporting products, such as rings or a paste, can help you achieve a good seal around the stoma. Speak to your Stomal Therapy Nurse for further advice regarding supporting products and their use.
Ensure that the baseplate has made full contact with the skin by applying gentle pressure to it during application – begin in the area closest to the stoma, and then move outwards towards the edges.
Remove
Protect the skin around your stoma by gently removing the baseplate. An adhesive remover spray or wipe can help to make this easier.
Pull down on the removal tab (if your product has one) to loosen the barrier from the skin.
Gently push on the skin as you pull down on the baseplate going side to side to gently release the adhesive from the skin.
This is called the push-pull technique.
Note! Regardless of your pouch-change routine, you may wish to change your appliance if you feel itching or burning. If this is an ongoing issue, please review with your Stomal Therapy Nurse.
Check
Check the back of the baseplate for erosion or output (faeces or urine)
Once the adhesive baseplate has been removed for a few minutes, examine the skin that was underneath.
If necessary, use a mirror to check your skin
If you see one or more of the following signs, it may be because you need to change your appliance more often or use a different appliance:

Erosion of the adhesive baseplate
Leakage on the baseplate or your skin
Irritated or discoloured skin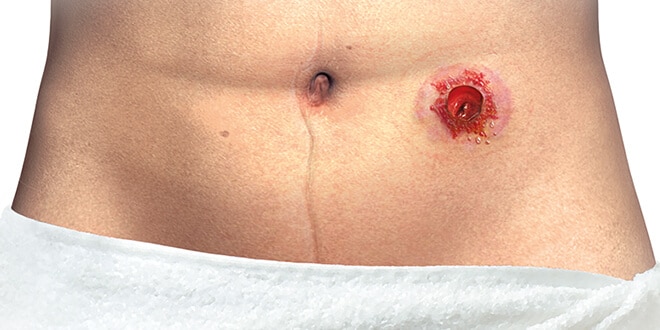 Experiencing skin irritation?
If you notice any changes to the appearance, colour or sensation of the skin around your stoma (compared to the skin on the rest of your stomach), you can download our guide to healthy skin to help detect what might be wrong and what can be done. Consult your Stomal Therapy Nurse or contact Coloplast for further guidance on how to get in touch with a local Stomal Therapy Nurse.