Bodies are different. With BodyFit® Technology, we make life easier for everyone with an ostomy by securing the right fit, no matter your shape and whatever your specific challenges.
If you want to try a free sample, please click above. To make sure the sample fits your needs, we will contact you within the next few business days.
---
Regular profiles
If the area around your stoma is level or near level with the abdomen, the flat SenSura® Mio appliance may be the best fit. It has an elastic adhesive that follows your body during movement.

Inward profiles
If your stoma is on an inward area, SenSura® Mio Convex could be right for you. It has integrated flexlines for comfortable bending without any compromise on security.

Outward profiles
If your stoma is on a bulge or hernia then SenSura® Mio Concave may be the best fit. It has a curved-star-shaped baseplate that hugs the bulge or hernia for a good fit.
---
Do you need a flat, convex or concave?
The SenSura Mio range lets you choose between a flat, a convex or a concave baseplate. What's best for you depends on the area around your ostomy and the position of the ostomy.
If the area around your ostomy is deep-seated or uneven, a convex baseplate can help provide a good fit. The curved shape of SenSura Mio Convex provides support and comes in three sizes: Soft, Light and Deep.
The Soft Convex can provide the proper support in the area around the ostomy, if it is above skin level.
The Light Convex has a light curve that gently helps the ostomy protrude, if it is in level with the skin or in a slightly deep-seated area.
The Deep Convex is suitable, if your ostomy is below skin level and needs a lot of help to protrude. It has a deep curve, which provides a good grip.
A Coloplast Care® professional can help identify which size is right for you.
If the area around your ostomy is an outward bulge, curve or hernia, a SenSura Mio Concave solution may be the right solution for you. It is the first appliance specially designed for outward areas. Its concave baseplate supports your stoma with less creasing and folding in the adhesive.
Full-circle filter prevents ballooning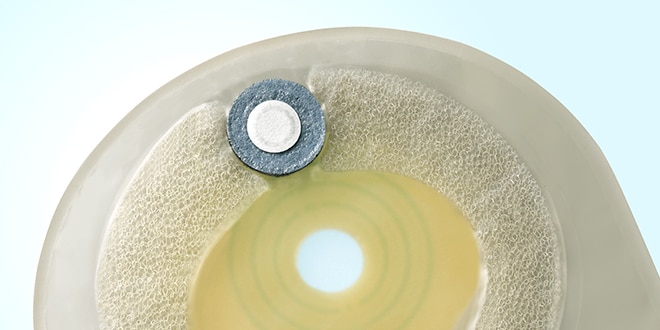 Do you worry about ballooning or odour from the pouch? All of the SenSura Mio pouches have a full-circle filter, which consist of a pre-filter and a carbon filter. The pre-filter protects the carbon and membrane from faeces and thereby prevents the filter from clogging. This results in a much smaller risk of ballooning.
Secure fit with elastic adhesive
Your skin is elastic. Therefore the SenSura Mio features an elastic adhesive that fits individual shapes and follows natural body movements to maintain a secure fit.
Feel free to wear white
Do you worry that your pouch will be visible underneath your clothes? The SenSura Mio bag is available in a neutral-grey textile, which is chosen to optimise discretion under all clothing colours - even white.
And because it's made of textile, the bag feels soft against the skin and provides low friction against clothes.
1-piece or 2-piece solution? What to choose?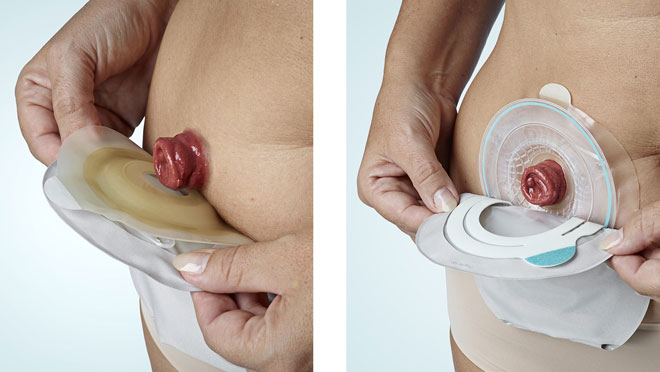 There are advantages to using both systems. It basically comes down to what's convenient for you.
If you use a SenSura Mio 1-piece colostomy solution, the baseplate (flat or convex) is permanently fixed to the bag, and to change the bag, the whole appliance is removed and replaced. This gives a more discreet profile, and you avoid the risk of any output hiding under the baseplate for too long.
With a 2-piece solution the bag and baseplate are two separate items. You change the bag more often than the baseplate, and you are able to switch among different bag sizes depending on your need. This can come in handy when you are going out and may prefer a smaller and more discreet bag.
Do you prefer a click or a flexible adhesive coupling?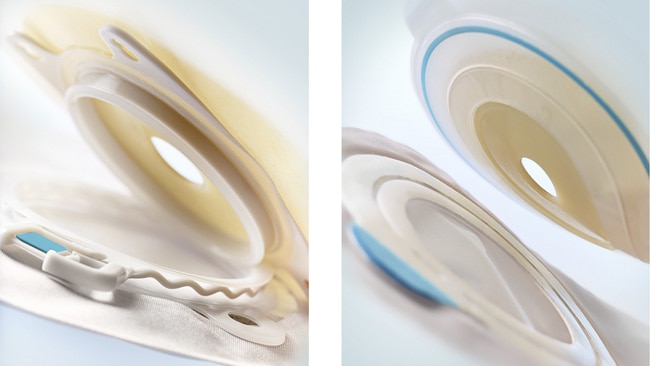 If you want to feel reassured that the system is coupled correctly, The SenSura Mio Click has a wave-shaped lock-ring, which gives an audible "click" when the bag is securely locked to the baseplate.
Would you like to combine the flexibility of a 1-piece appliance with the convenience of a 2-piece appliance? Then the SenSura Mio with a flexible adhesive coupling may be your solution. The flexibility of the coupling is good for adapting to body contours.

Before use, always consult the 'Instructions for use' document delivered with the products