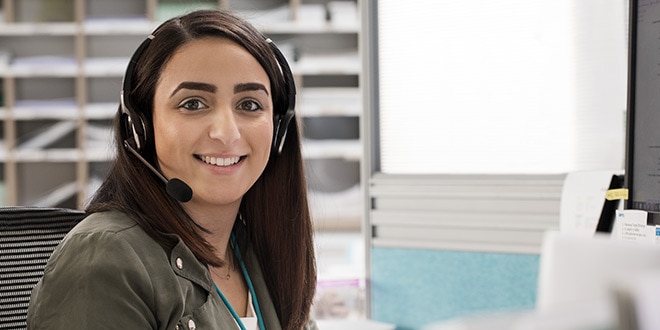 It is important that you get the intermittent catheter that best meets your specific medical needs. An intermittent catheter that is both comfortable and convenient to use helps you to maintain the intermittent catheterisation routine prescribed by your Healthcare Professional. Adhering to that prescribed routine is vital for your overall health and quality of life.
Our Coloplast® Care team can assist you in finding the right catheters and a supplier that can deliver it.
Here are the steps on how to get your catheters:

Australia
Step 1: CHOOSING YOUR INTERMITTENT CATHETER
You and your clinician will decide which types of intermittent catheter best meets your specific medical needs. If you haven't already done so, seek an assessment by a continence Healthcare Professional to ensure that you use the most appropriate continence products, including the correct size.
Step 2: INVESTIGATE ELIGIBILITY FOR FINANCIAL ASSISTANCE
If you need to use continence products on a long term basis, it may become very expensive and put pressure on the household budget. The Australian Government and State and Territory Governments offer a range of continence subsidy schemes to help offset some of these costs. These schemes have differing eligibility criteria and funding allocations, which means that you may be able to apply for funding through more than one scheme if you are eligible. Speak to your healthcare professional about the options available in your area.
There is also more information available on our Facts about reimbursement of your catheters page
Step 3: FIND A CATHETER SUPPLIER
A continence product supplier sells products direct to the public. This can be through a shop front, online store or phone order system. Many continence product suppliers offer home delivery, as they understand that some people prefer to purchase continence products in the privacy of their own home.
Some funding schemes may require you to get your continence products from a particular supplier.
Some of the larger suppliers are Independence Australia, BrightSky, CH2 and Intouch Direct.
Step 4: RE-EVALUATING YOUR INTERMITTENT CATHETER NEEDS
Over time, your intermittent catheter requirements might change. If you experience frequent urinary tract infections or difficulty inserting your intermittent catheter through the urethra and into your bladder, you should contact your Healthcare Professional immediately. He/she will need to discuss the problem with you and address the issue accordingly. In some instances, it may be determined that a different intermittent catheter type could help.
Non-touch or closed systems are sometimes suggested for individuals that experience frequent urinary tract infections.
Coudé tip intermittent catheters are sometimes recommended for males who experience difficulty in inserting the catheter through the urethra and into the bladder.
NOTE: It is always a good idea to bring one of your intermittent catheters with you to your appointments with your continence healthcare professional. This helps remind the healthcare provider of what you are currently using and can help in the discussion of finding other options for you based on the issues you are experiencing.
New Zealand
Step 1: CONSULT YOUR HEALTHCARE PROFESSIONAL
If you are experiencing bladder issues, the first step is to speak to your Healthcare Professional. They will assess your situation, your possible eligibility for funding and the products available to you.
Step 2: IF ELIGIBLE YOU WILL BE REFERRED FOR FUNDING
If your Healthcare Professional believes you are eligible to receive financial assistance for your catheters, they will complete your prescription and submit the relevant applications to the District Health Board or Accident Compensation Corporation on your behalf. This application will include the type and quantity of products you are entitled to as part of the scheme (as dictated by the local DHB or ACC).
Step 3: PRODUCTS WILL BE DELIVERED VIA A DISTRIBUTION NETWORK
If funding is approved, your allocated products will be delivered as per the schedule agreed.
Step 4: SCRIPTS ARE USUALLY REVIEWED ANUALLY
Your prescription will most likely be reviewed each year to assess your continued needs.
Step 5: ADDITIONAL PRODUCTS CAN BE PURCHASED
If you would like more products than provided by your scheme or would like to try a different product, firstly speak to your Healthcare Professional. There is an option to purchase products directly from suppliers such as EBOS or USL.
These are general guidelines meant to help you with typical questions. You should follow the specific instructions provided by your healthcare team and the instructions for use provided with your products.